Hive connector#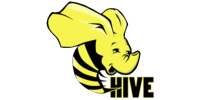 The Hive connector allows querying data stored in an Apache Hive data warehouse. Hive is a combination of three components:
Data files in varying formats, that are typically stored in the Hadoop Distributed File System (HDFS) or in object storage systems such as Amazon S3.

Metadata about how the data files are mapped to schemas and tables. This metadata is stored in a database, such as MySQL, and is accessed via the Hive metastore service.

A query language called HiveQL. This query language is executed on a distributed computing framework such as MapReduce or Tez.
Trino only uses the first two components: the data and the metadata. It does not use HiveQL or any part of Hive's execution environment.